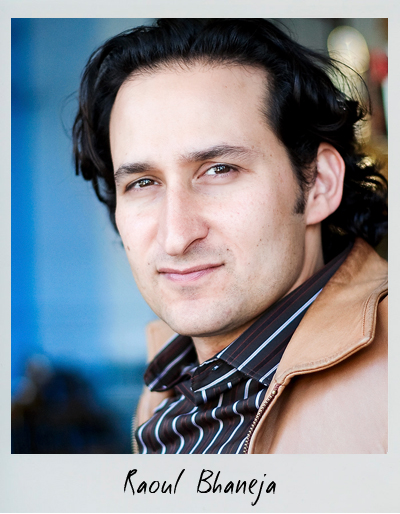 Born in Manchester, U.K, to a South Asian father and an Irish mother Raoul grew up in Ottawa and Bonn, Germany. A graduate of Canterbury Arts High School in Ottawa and the National Theatre School of Canada, he began acting at 15 as a founding member of the Shakespearean street theatre group A Company of Fools. Raoul has appeared in the critically acclaimed productions Helen's Necklace,The Domino Heart, Bashir Lazhar, House of Many Tongues and the upcoming world premiere of Wide Awake Hearts at The Tarragon Theatre in Toronto. Other selected theatre credits include Rice Boy (Stratford Shakespeare Festival), Savage Sensuality (Shakespeare's Globe Theatre, U.K. Christopher Plummer Artistic Fellowship Award), Sin City (2002 Canadian Comedy Award Nomination), The School for Wives (Soulpepper Theatre), Standing Female Nude (Storm Collective), The Cherry Orchard (Theatre Smith- Gilmour/ Columbus), Hamlet (Neptune Theatre), speak (Prairie Theatre Exchange) and two seasons at The Blyth Festival under the direction of Paul Thompson. In January 2006 at Theatre Passe Muraille in Toronto he opened Hamlet (solo) which he conceived with director Robert Ross Parker. It has been performed across Canada including The Banff Centre, The New Classical Theatre Festival in Montreal, On The Waterfront Festival in Nova Scotia, The Uno Festival in Victoria, The York Shakespeare Festival in Newmarket and three times in New York including SoloNOVA at PS122. In the U.K. the show ran for three weeks in The Assembly Rooms as part of the Edinburgh Festival Fringe, also Stratford Upon Avon and The Millfield Theatre in North London. It has been performed in a number of academic institutions most notably The Royal Academy of Dramatic Art in London. The Gemini Award nominated documentary Hamlet (solo), directed by Jeff Stephenson premiered in 2007 on BRAVO! and continues to be broadcast.
Bhaneja was a series regular on Train 48 (where he also made his television directing debut), the Ken Finkleman series At The Hotel and most recently in two American series Runaway (The CW) and The Dresden Files (Sci-Fi). His notable leading and supporting roles are numerous in television movies Open Heart (CBC), Matters of Like and Dating (Lifetime) as well as the mini series The Summit (CBC/Global) . Other guest star credits include The Eleventh Hour, The Associates, The Border, Street Time, The Newsroom and many more. Bhaneja's feature film credits include Ararat, Extraordinary Visitor, Violet, Picture Claire, Godsend, Touch of Pink, Weirdsville and The Sentinel staring Michael Douglas. He co wrote and produced Just Visiting a BRAVOfact short film directed by Jeff Stephenson which has been featured at several major festivals including The Hollywood, LA Short, Huston, Bermuda and Vancouver Film Festivals.He narrated The In-Between World of M.G. Vassanji for Bravo and has lent his voice to many documentaries, cartoons and radio plays including the successful Steve The First and Second series and Afganada and as Max Bush in the new pilot Night Soil, all for CBC Radio.
Raoul is the leader of the Maple Blues Award winning band, Raoul and The Big Time. In 2007 they were named Best Blues Artist by Toronto's NOW Magazine and they have opened for blues legends Buddy Guy, Bobby "Blue" Bland and The Downchild Blues Band. They have appeared on nationally televised shows Canada AM (CTV), Studio 2 (TVO), Breakfast Television (City TV) and Daytime (Rogers), have completed two videos and have released COLD OUTSIDE (2004) and BIG TIME BLUES (2000), YOU MY PEOPLE (2009) and BLUE MIDNIGHT: A LIVE TRIBUTE TO LITTLE WALTER (2010). In the summer of 2009 they make their West Coast debut at the prestigious Vancouver Folk Festival.